Cleaning Services Can Get Things More Sparkling Than Doing it Yourself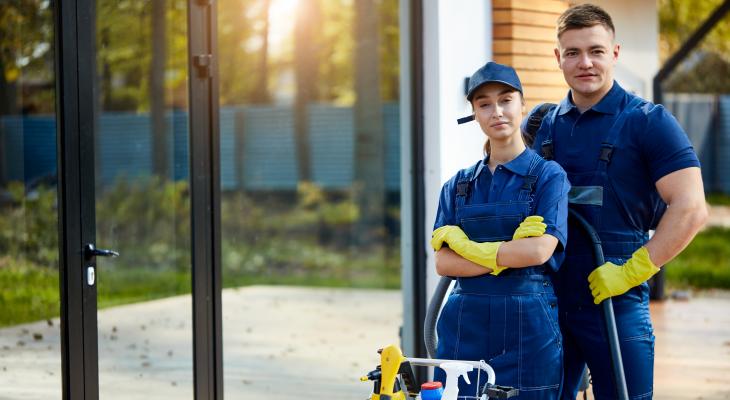 If you're looking for a way to make your home or workplace feel cleaner without the hassle of scrubbing every surface, then cleaning services might be your answer.
Cleaning services can deep clean everything from ovens to baseboards, and they come with many benefits that make them perfect for any homeowner. There are a few reasons why hiring professionals is the best option for getting things extra clean. The first reason is that they have more experience than most people in this field. Second, they have access to professional-grade equipment, which will allow them to get those tough stains out that might elude you as an amateur at home. Finally, since they specialize in doing this work every day, their rates are lower than what you would spend trying to buy all the supplies and equipment yourself.
What Do Cleaning Services Do?
Most house cleaning services will either focus on providing deep cleanings or offer a variety of options so you can go with the type of service that fits your specific needs. Usually, this involves them coming in and doing things like dusting, mopping floors, throwing out the trash, vacuuming rugs, scrubbing bathrooms down to an absolute shine, and more.
When it comes to workspaces, most companies will offer these services. Everything from the bathrooms to cleaning common areas should be included in their offerings, assuming you have a set rate. In some cases, they might even do your dishes so you can get other things done while they take care of the dirty work for you.
Cleaning Services for the Homeowner
As a homeowner, you likely have a lot of things on your plate that keeps you busy. Between work, taking care of the home, and finding time for yourself, it can be hard to keep up with all the cleaning that needs to be done. A cleaning company can help you with:
Deep Cleaning - This is a service where the cleaning company comes in and does a more thorough job than you would be able to do on your own. They will clean areas you typically don't have time for or can't reach, such as the top of your cabinets or inside the oven.
One-time Cleaning - This type of cleaning is just what it sounds like. You can get your home cleaned when you need it so you can have a party or be ready to sell it faster when the time is right for you.
Regular Cleaning - This type of service will typically take place weekly, bi-weekly, or monthly. This way, your house will be kept nice and clean all the time, and you won't have to worry about it.
Cleaning Services for the Business Owner
When it comes to businesses, there are many different types of cleaning services that can be offered. These companies can help get your business looking great in no time, from deep cleans to one-time cleans. Some of the services that are most common for businesses include:
Specialty Cleaning - This type of cleaning is often needed for businesses that have delicate or expensive equipment. By hiring a professional company, you can rest assured knowing that your equipment will be handled with care and that it will be clean when they're done.
Window Cleaning - This service is often overlooked, but it's essential for businesses. Not only does it make the company look good from the outside, but it also helps employees be able to see clearly while they're working.
Trash Removal - Many businesses generate a lot of trash, which can be challenging to take care of on your own. A professional company can come in and take care of it for you, so you don't have to worry about it.
Pressure Washing - This is a perfect service for businesses that have a lot of outdoor space. By pressure washing the area, the cleaning company can remove all the dirt, dust, and grime built up over time. This will help make the space look nicer and be more welcoming for customers.
There are many other services that cleaning companies can offer, so it's important to talk with them and see what they can do for you. No matter your needs, there is likely a company out there that can help. All you have to do is ask!