An Exterior Home Remodel Can Freshen Up Your Home and Modernize Outdated Features (newstyle)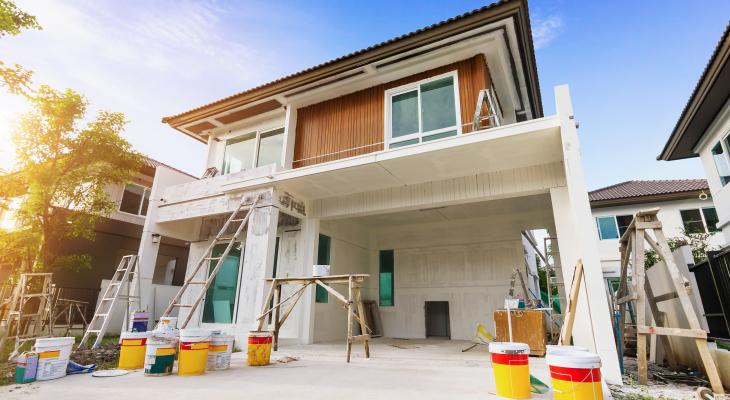 The decision to undertake an exterior remodeling project is an exciting one. Once the work is complete, you'll have a beautifully revitalized home that meets your style and "vision." However, the road to getting there can be a stressful one for many homeowners. To avoid feeling overwhelmed during the exterior remodeling process, we recommend sitting down and answering a couple of key questions about your project:
What will the exterior remodel encompass?
What are the benefits of an exterior remodel?
How much will the remodel cost?
The answers to these questions will help you plan your upcoming remodel. By doing your research and planning ahead of time, you'll know exactly what you want to accomplish, what areas to work on, and how much it will cost.
What Does an Exterior Home Remodel Encompass?
Your home's exterior is built of many different parts: windows, siding, roofing, gutters, and more. As a rule of thumb, start your remodel off with areas that need urgent repairs. In other words, don't start off by painting your siding if your gutters are in bad shape. By prioritizing repairs, you can prevent the damage from spreading to other parts of your home during the renovation process. Once major repairs are completed, you can move on to other exterior improvements. Typically, exterior remodeling projects follow this order:
Roof and gutters
Windows and doors
Siding
Soffits and fascia
Keep in mind that not all exterior contractors offer a full suite of exterior services. Instead, some specialize in just one area, like windows or siding. During your planning phase, be sure to research local remodeling companies that can fulfill all of your exterior renovation goals.
Benefits of Getting an Exterior Home Remodel
There are many reasons why homeowners choose to have their homes remodeled. From style to function and value, updating your home's exterior will yield many advantages. Some of the top benefits of exterior remodeling include:
Enhanced curb appeal
Increased property value
Maintenance and repairs
Modern style and appearance
Greater energy efficiency
While the visual benefits of a remodel are usually the first that come to mind, exterior renovations also have a number of practical benefits. For example, modern windows can cut down on noise pollution from the outdoors, and contemporary siding can help insulate your home during cold weather. These benefits can increase the comfort of your home, quality of your life and also lower your utility bills.
If you have a specific goal in mind, like energy efficiency, be sure to share it with your contractor. They'll help you choose the right products from their lineup to meet your remodeling goals.
What Will it All Cost?
The cost of an external remodel can quickly spiral out of control if you don't set a realistic budget. By creating a budget ahead of time, you can save yourself the stress of being hit by unexpected costs as the project progresses. You'll also have an opportunity to choose materials that comfortably fit your price expectations. While the exact price varies considerably, the average cost of a complete external remodel ranges from $20k to $100k. The four main factors that determine the cost of an exterior remodel are:
Contractor fees
Material costs
Labor costs
Unforeseen expenses
Most contractors offer free price estimates for their work. You can discuss your project in detail with your contractor of choice to get a clearer picture of what the project will cost from start to finish. Working with a contractor who can complete the entire project–roofing, siding, windows, and doors–will typically be more affordable than working with multiple contractors who can only work on specific areas of the house.