An Entry Level Job Can Lead To Greater Career Options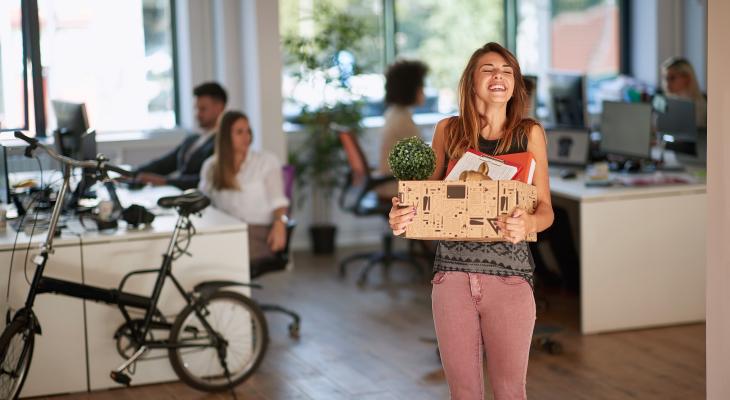 In today's job market, a sneaky way to get ahead is to start from the bottom. This means finding a job that you can enjoy and be successful in. If you have some experience, this is easier than ever. However, if you don't have any experience, there are plenty of opportunities out there for you. Entry-level jobs tend to pay less money, but often they give many perks. Some employers will even offer higher-paying positions later on. These jobs also teach employees skills they may need when working at a more highly skilled position down the road, increasing their value as potential employees and helping them get hired at better-paying jobs. When people hear the word "job," they usually think about a high-paying career where they work eight hours a day doing something they love. However, most entry-level or first-time jobs are not like that. Here is a list of how entry-level jobs can lead to career paths with information on what the job does and their future potential.
1 - Administrative Assistant
Are you looking for an office administrative assistant position? Working as an administrative assistant may not sound like much fun, but it can be very rewarding when used properly. Just remember to always put your clients first. If they're happy, you'll be glad too! You will be responsible for answering phones, scheduling appointments, writing letters, making copies, filing, scanning documents, returning phone calls, and organizing files. This entry-level job can lead to the future potential of becoming an administrative assistant at one of the largest companies or a more intense job at your own. You'll have the chance to learn a little bit about all the aspects of how a business runs.
2 - CNA / LPN
The Certified Nursing Assistants (CNA) or Licensed Practical Nurse (LPN) can work with patients who need assistance in daily activities such as bathing, dressing, feeding, grooming, walking, using the toilet, helping them move around, and much more. These positions are also known as personal care assistants. These employees often help those who cannot take care of themselves due to age, illness, injury, or disability. They provide friendship while caring for seniors and other individuals. The LPN/RN works under RN direction providing direct nursing services to a patient within a licensed healthcare facility. This can lead to the future potential of becoming physicians or medical specialists who perform routine preventative maintenance on all types of medical equipment, including MRI machines, X-ray systems, dialysis machines, ultrasound devices, mammography units, and more.
3 - Customer Service Representative
The customer service representative is a great choice for someone who enjoys talking to people. It often involves sitting down over the phone or via email to assist customers with various issues. Some common duties include taking orders or complaints, checking account balances or history, verifying insurance coverage, answering general questions about the business, completing warranty claims, performing repairs, providing support for software applications, selling products, handling billing inquiries, processing payments, shipping packages, receiving deliveries, delivering mail, greeting guests and visitors, assisting with building security emergencies, or working in call centers. There's no limit to where you can go based on this type of entry-level job, but before long, you could be managing many different departments. The future potential of this entry-level job includes management, leadership roles, sales representatives, financial advisors, personal trainers, pharmacists, lawyers, and real estate agents.
4 - Data Processor
Data processing refers to the use of computers to process data. A person who performs this function uses a variety of computer programs to manipulate data, such as entering it into databases or sorting through records. For example, the IRS processes income tax returns, banks process deposits, credit card processors process purchases, loan officers approve loans, payroll companies process wages, mortgage brokers process home mortgages, insurance agencies verify insurability, retailers process check out receipts, and airlines process flight reservations. If this type of entry job sounds appealing to you, consider earning a degree in computer science or business administration. As the name implies, there will always be a demand in this field because companies constantly need new ways to collect, store, analyze, or present their data.
5 - Information Security Analyst
If you enjoy keeping your network secure, then the information security analyst position may appeal to you. This is especially true if you're interested in learning how to protect data against theft, tampering, misuse, unauthorized access, and disclosure of sensitive information. An information security analyst typically analyzes existing IT infrastructure and procedures and determines what needs to be done to protect this information. In addition to ensuring privacy and integrity of data throughout a company's organization, an employee in this position examines policies and practices that pertain to accessing, storing, sharing, and destroying documents. Future potentials of this entry-level career involve being responsible for networks, servers, online accounts, mobile devices and applications, operating systems, firewalls, encryption, security scanners, intrusion detection and prevention systems, anti-virus software, data recovery tools, malware protection solutions, physical security measures, and other related technologies.
6 - Legal Assistant
This is one of the most popular entry-level jobs today. While some administrative assistants may handle paperwork or bookkeeping tasks, others may provide administrative services such as scheduling appointments, preparing letters, writing reports, arranging travel arrangements, booking hotel rooms, ordering supplies, purchasing office equipment, sending emails, collecting invoices, making copies, answering phones, faxing documents, booking airline tickets or traveling for meetings. Many professionals find legal administrative assistant work rewarding because they get to help clients, interact with co-workers, meet interesting individuals, gain knowledge, learn new skills, and earn good money at the same time. They might also choose to specialize or branch out from their company's more typical administrative job. Many employers are looking for experience in legal matters or law enforcement. Others prefer candidates in criminal justice, psychology, sociology, social work, education, accounting, finance, marketing, or organizational behavior. Those who thrive in this line of work may want to pursue further studies in law or politics.