While Not as Common as in the Past, Arcades Can Be a Whole Lot of Fun To Experience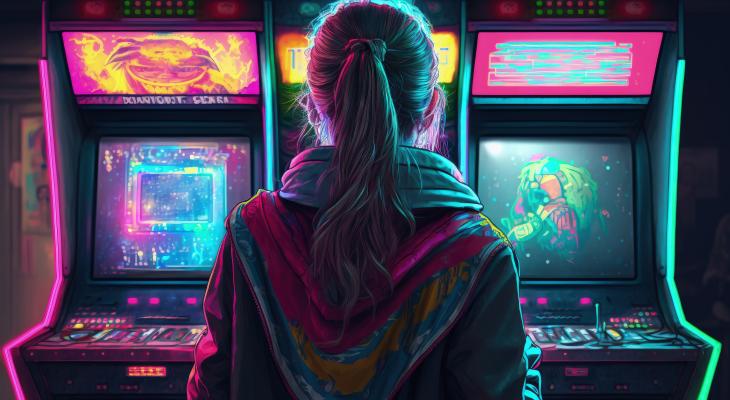 The arcade's story begins with the 1970s introduction of Pong. In the posh 1980s, Americans shopped at 2,500 different shopping malls. Most 1980s-era shopping malls had busy, thriving arcades. Since those days, shopping centers have bombed in popularity. The arcades dwindled in number, also, as their profitability withered.
Parents paid for consoles to bring exciting arcade experiences home. In response, remaining arcade owners invested in motion simulators and other impressive games that were unavailable to home gamers.
Nowadays, gamers can play Frogger, Tetris and comparable games loaded on devices. However, some people still crave the social experience of game play in an arcade environment. Therefore, fortunately, the arcade didn't die completely; rather, it morphed and evolved into its ultimate present-day manifestation.
Evolution of Arcades
Arcade games can still be profitable if they are not the primary focus of a business but rather comprise a secondary revenue stream. For example, Dave and Buster, founders of the popular Dave & Buster's arcade chain, originally owned two separate businesses, a restaurant and an arcade. They observed their customers steadily migrating back and forth between their businesses, and they decided to work together to create a restaurant-arcade hybrid. Currently, this type of hybrid arcade business is more typical than arcades that just have games.
Many bars and breweries are also incorporating vintage arcade games into their interior environments. The video games give consumers a distinctive reason to choose these bars over competing establishments, but they aren't the primary draw. Similarly, entertainment venues like bowling alleys are offering video games to their customers as ancillary attractions.
Types of Games at Arcades
There's a lot of fun types of games that people can play when they head to the arcade. Some of the best include:
Pinball machines present a lively experience to gamers involving energetic sounds, flashing lights and a springy, ricocheting ball. The pinball encounters various obstacles, accruing points while bouncing along.
Skee-ball fanatics compete for various ticket prizes as they attempt to outperform other game players.
Players intent on procuring rewards favor redemption games.
Merchandiser game machines tempt players with appealing prizes. Examples include claw machines plus photo booths.
Racing games involve playing against default game characters or against other engaged human opponents to discover who's fastest.
Fighting games might incorporate combat of any variety, possibly including gun fights, wrestling, boxing or other vicious battle types.
Amusing oneself with air hockey entails scoring more goals than fellow players score.
Electronic versions of darts pop up commonly at arcades.
Finding Local Arcades
Nowadays, if you want to find vintage 1980s-style arcade games or retro pinball machines, searching for an arcade bar offers your best current likelihood. To take game-crazed kids out for an appealing arcade experience, seek out vintage video games at local unexplored miniature golf courses, venues, eateries, and bowling alleys. A few well-known arcades are as follows:
Dave & Buster's arcade and restaurant chain offers 140+ locations in 41 of the United States plus Puerto Rico and Ontario, Canada.
Barcade is a chain of bars that include retro video arcade games and pinball machines; there are nine Barcade locations in the United States.
The 16-Bit Bar + Arcade has nine US locations; all of them offer video games, and some of them also offer bowling.
In the Midwestern and Southern United States, check out the Up-Down Arcade Bar chain for seven different locations serving craft beer and pizza along with the opportunity to play 25-cent video games.