There's No More Comfortable Type of Clothing Than Loungewear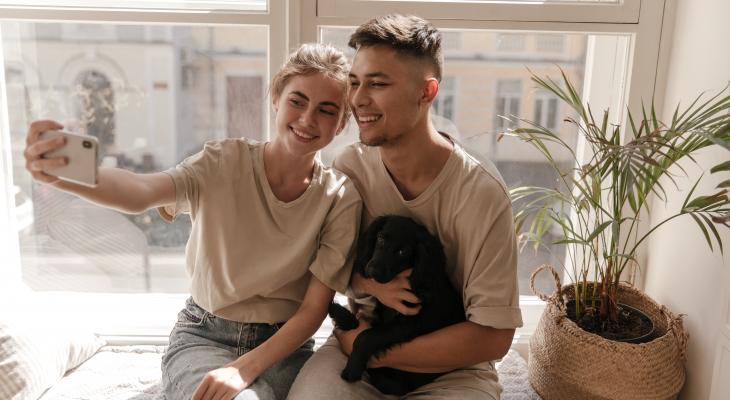 Gone are the days when you had to wear uncomfortable clothing just to be in style.
Now there's a range of options for those of us who prefer our clothes to be a bit more flowy and comfortable, as opposed to jeans so tight they make it feel like you can't breathe.
Enter loungewear. Consider it the middle ground between pajamas and athleisure clothing. Loungewear is a stylish form of casual, everyday clothing that allows you to be comfortable while looking great. These outfits are purposefully cut and designed to look stylish and put together while you're out and about, but they're also supremely comfortable and a joy to wear.
The materials used to make loungewear, along with its purpose, is what sets it apart from athleisure and pajama outfits. Common materials used include cotton, wool, flannel, and silk. They usually come in neutral tones that make them appropriate for professional settings. Loungewear can be mixed and matched with more formal clothes too, if you need to be a little more dressy.
A Typical Loungewear Outfit
There are a variety of styles when it comes to loungewear outfits, but they all share a few common traits.
One example of a common loungewear outfit is a sweater and joggers. These will typically come in a cute matching set that makes you instantly look put together, even though you're in sweats. This common outfit can even be mixed and matched if you want something a bit more colorful and eye popping.
Another common outfit that's worn by loungewear enthusiasts is a simple slip dress. Many of these have been made from silk. This makes the dress look elegant, like a lot of time was taken into getting ready for the day. In reality, the outfit is cozy and easy to slip into for a day of walking on the town or chilling at home on the couch.
Common Loungewear Garments
Though there are a wide variety of loungewear styles and garments, there are a handful that I would consider to be staple pieces.
Hoodies - These are a classic staple piece. They keep you warm during chilly days are are great for lazing around the house or going out for a brunch date.
Dresses - Simple slip dresses are comfortable and sexy, great for dates, meetings, or just relaxing at home.
Shorts - Great for warmer months, this loungewear piece is great paired with a cute camisole.
Leggings - Popular for a reason, leggings are a comfortable way to flaunt yourself a little and go great paired with a tank or pullover.
Tanks/Camisoles - These tops are so versatile! A cami can be worn plain at home or dressed up with a snazzy denim blazer at the office.
Jumpsuits - These became popular during lockdown and it looks like they're here to stay. Super easy and convenient, these go great paired with anything from heels to tennis shoes.
Popular Brands
New loungewear brands seem to be popping up on the daily as the fashion explodes in popularity. There are so many brands to choose from, it's easy to get stuck trying to make a decision. To make it easier on you, here are a few reputable companies you can get started with:
Brooklinen - This company also makes luxury sheets. Their loungewear offerings are so cozy, it's almost like wearing their sheets as an outfit.
Skin - This company is the queen of luxury and comfort, incorporating Pima cotton into their loungewear offerings.
Hanes - This popular brand has a large range of loungewear for affordable prices, found widely throughout the US.
Lululemon - Known for their stylish and comfortable leggings, they're a great place to shop for some cute leggings or other loungewear.
In conclusion, loungewear is a style of clothing that is booming in popularity. It allows you to express yourself, be comfortable, and look great, all at the same time. Personally, we're in love and glad the style is here to stay.