Necklaces Range From Elegant to Everyday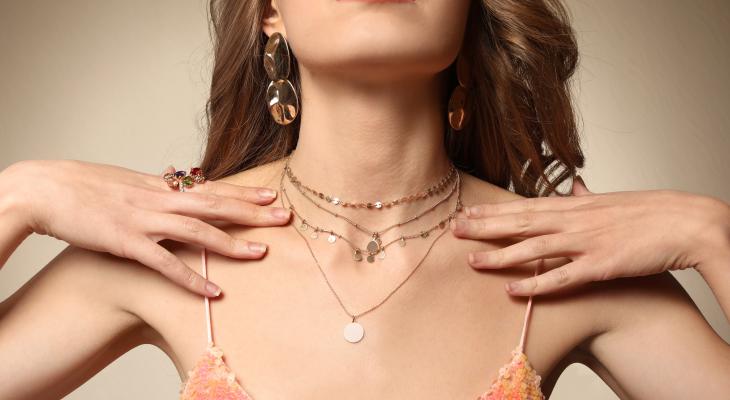 Necklaces date back to the Egyptian era and even further into the past. They were originally worn as a symbol of status and wealth but also used for religious, ceremonial, and other purposes.
Today, necklaces are worn frequently as a fashion piece or sentimental object. Common reasons to wear a necklace in today's society are for style purposes, as a complementary piece for an outfit, something to make you stand out from others, or to display emotional meaning that comes from many family heirlooms.
Finding the right necklace style that suits your personality is a fun and creative online shopping experience. Necklaces range from elegant to every day so you have tons of options out there! If you don't like online shopping, then you can plunder many wonderful stores full of great necklaces. Continue reading to learn more about necklaces and which styles suit you the best.
Necklace Styles
There's a lot of different styles of necklaces. Each style has their own character and their own feel when wearing them. Some popular styles include:
Chain necklace – Typically this necklace style is made from silver or gold. Common chain styles include box, link, herringbone, snake, omega, and rope.
Choker necklace – This necklace measures 13" to 15" inches in length. It's usually made from a wide range of materials such as metal, leather, plastic, beads, and velvet.
Collar necklace – This style of necklace lays flat against the body and measures 14" inches in length.
Lariat necklace – This necklace style creates a "Y" shape when on the body. It is available in a variety of materials and jewel stones.
Long necklace – This necklace style is longer than the standard size. It measures 22" to 42" inches in length and can be worn with other necklaces of different lengths to create an overall look.
Long pendant necklace – This necklace measures 22" to 24" and features a pendant attached with a small loop.
Necklace Materials
Historically, necklaces were made out of a variety of materials created from natural objects found in different areas of the world. For example, Native Americans used materials such as coral, turquoise, and seashells for their necklaces. They often created their own beads that were hand-carved from materials such as animal teeth, claws, and bones.
In today's world, you won't find hand-carved beads made from teeth but you will see other materials that create a beautiful appearance. Materials that are currently used to make different types of necklaces include silver, gold, palladium, platinum, titanium, stainless steel, beads, gemstones, pearls, leather, and tungsten.
The main part of a necklace is the chain or band that wraps around the neck. The two chain ends are held together with a clasp. Clasps styles that are commonly used on necklaces include lobster claw, spring ring, and barrel.
Online Necklace Shopping Advice
Shopping online for necklaces offers a unique experience because you have access to seemingly unlimited options. The following tips will help your online shopping experience go smoothly:
Compare prices – Open multiple tabs to compare prices for the same type of necklaces at a variety of online stores. Comparison shopping is one of the best benefits of online shopping.
Read online reviews – Consumers often leave feedback about the products they purchase and jewelry is a popular item that has tons of reviews. Carefully read through the reviews about the specific necklace you are interested in to ensure you are purchasing a high-quality product.
Payments – Use a credit card of your choice to make your online purchase. If you are concerned about theft, transfer the cost of the necklace you are purchasing to a prepaid card and make your purchase safe and secure.
Shopping online for necklaces is a safe and easy way to find unique jewelry. Always keep in mind the size of the necklace to ensure it will fit comfortably and the way you expect. Start shopping now for yourself or purchase a gift for others!