Jeans Come in Many Styles Offering Plenty of Outfit Options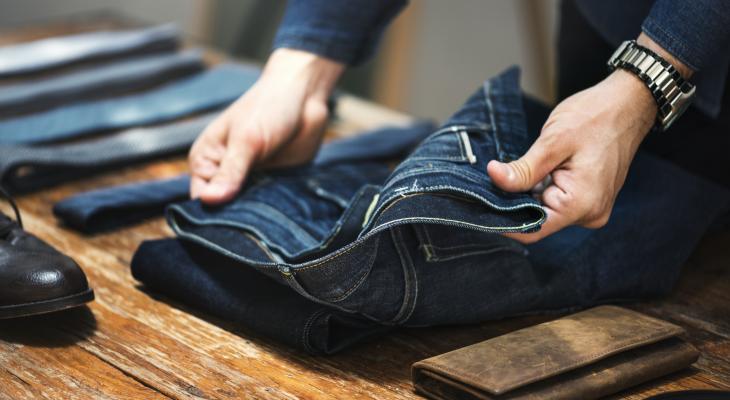 Jeans come in a variety of styles, colors, and fits. It is possible to find jeans for men, women, and children.
There are many fits, from baggy to tight to ultra skinny. One can choose from different materials as well as washes and treatments that make the denim fade or be distressed easily. Different pockets, stitching, belt loops, and zippers can also affect how a pair of jeans look with a shirt or jacket. Jeans have been around since the 1800s, but they have evolved into more than just casual wear, with designer jeans costing hundreds of dollars. With so many options, it is possible to create a unique style for every person who wears them. For anyone looking for something casual with a modern twist, jeans are the perfect choice. They can be dressed up with different styles of shoes and jackets or sweaters for women and button-down shirts for men. Jeans are even worn in formal settings when paired with dress shirts, neckties, and sport coats. This article will look at the many different styles of jeans available on the market.
1 - Boot Cut
Boot-cut jeans are easily recognized by the flare that is made around the ankle or boot. The leg opening looks wide at first but tapers down to a narrow bottom hemmed edge. Boot-cut jeans can be worn at the ankle or even rolled up with a pair of boots. These jeans are very stylish and can be worn with many different types of shoes.
2 - Boyfriend
The boyfriend jean is baggy fitting, and the wearer usually rolls up the cuffs. These jeans are very comfortable because they fit loosely around the thighs, hips, and waist. They can also be very stylish when paired with a shirt or even tucked into knee-high boots for women. This style is versatile enough to be casual during the day or dressy in the evening when accessorized appropriately.
3 - Dark Wash
There are several dark denim washes, but the most popular is dark indigo. Dark wash jeans are usually not black, but they feature a very dark color that can range in shade. The darkness of this style is achieved by dyeing the jeans in one of two ways. One way is to leave the fabric in the indigo dye bath for longer, which produces a dark or black finish on the material. Another method is to add more dye at the end of the process, creating an even darker appearance than traditional jeans.
4 - Distressed Denim
Distressed denim involves purposely creating rips or holes in dark wash denim by using sandpaper, chains, knives, or scissors to make an unusual look for this type of jean style. Seen more often on women than men, it gives any outfit a more youthful and funky look. This is another style of jeans that go in and out of style, often quite quickly.
5 - Flared Jeans
A traditional jean style with a twist. Flare jeans have a leg opening that is much wider than the rest of the jeans to create an almost bell-shaped silhouette. The flare starts above the knee and tapers down towards the hem at the bottom of each leg opening. Flares definitely come in and out of style, which often makes it interesting to see jeans passed down from parents to children as they get back in style.
6 - Tapered Jeans
Similar to straight jeans, tapered jeans have a very slight tapering of each leg from the knee down but are not nearly as dramatic as boot-cut jeans. Hemlines on tapered jeans are often found just below the ankle bone on most people who wear them for casual or business settings that do not involve boots.
7 - Skinny Fit Jeans
Skintight and slim-fitting skinny jeans are extremely popular with girls who want their pants to fit tightly all the way down each leg. Skinny jeans come in every length imaginable as many people roll them up so they can show off shoes or boots with this jean style. While recently popular, skinny jeans are starting to trend downward.
8 - Cuffed Jeans
One of the most casual-looking jean styles, yet they often go unnoticed because people do not pay attention to hems on jeans anymore unless it involves cuffing them at the ankle. Cuffs can be worn loose around the ankles or tight and rolled up, so the hem rests just above the ankles.
9 - Straight Loose Jeans
Straight loose jeans are usually worn by men and women who enjoy a more relaxed fit. This jean style comes to the ankles and has a straight leg opening that flares out at the hem. These jeans are often made from a heavier-weight cotton material but also come in cotton and polyesters for those who prefer artificial materials to natural fibers.