Enhance Your Gift By Wrapping It Beautifully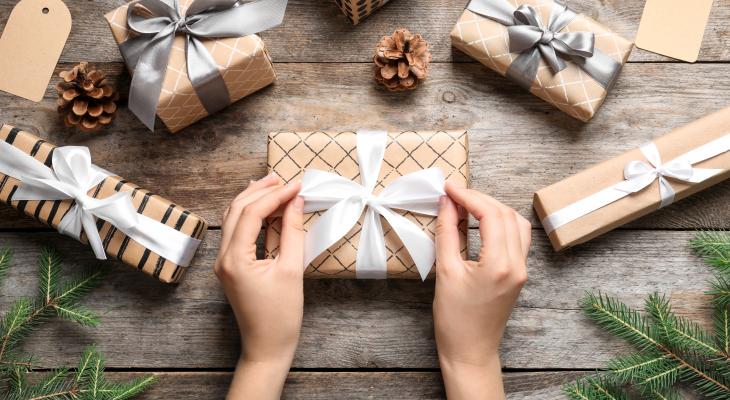 In the restaurant industry, presentation is a vital element in any pleasing dining experience.
The same can be said with regards to gift-giving. The beauty and creativity crafted into the outer layer and delivery of a present serve to enhance the recipient's surprise and enjoyment in receiving the gift. No matter how extravagant the gift itself, a lovely wrapping compliments and adds to the experience. On the other hand, if the gift is a simple one, a clever wrapping job can help boost the impact and add a little extra fun and sentiment to the gift itself.
In other words, be sure not to skimp on the outer beauty of the gift. It isn't necessary to spend a fortune on the wrapping in order to make it special. A dash of creativity and a few expert tips can help you offer up a perfect gift both inside and out.
Christmas Gift Wrapping Tips
Put some ho-ho-holiday joy in your gift wrapping by using a variety of colorful wrapping papers, classic holiday wrapping styles and added ornamentation. Christmas means color, so check out the huge assortment of printed and solid-colored wrapping paper available at department and craft stores. Add even more color with glittery bows and ribbons to help fill the bottom of the Christmas tree with excitement.
If you love a more traditional look, basic brown wrapping paper is always in style. The classic brown paper bag wrapping is beautifully complemented with a simple red or green ribbon for timeless charm. Be sure to attach a tag that accents and personalizes the gift to make it even more special.
The sky's the limit when it comes to adding fun ornamentation to your gift. Use greenery or simple holiday ornaments in place of a bow. Weave a tiny toy in with the ribbon as an added pop of fun. Tie wooden spoons into the ribbon of a chef's gift. It's like getting two gifts in one, so get creative!
Wedding Gift Wrapping Tips
The gift table at a wedding reception is usually a prominent place, so you will want to make sure your contribution to the happy couple compliments the day well. Take a note from the wedding invitation and wrap your gift in tune with the wedding theme. Try incorporating the wedding colors in both the wrapping papers and the ribbons. Then add a special keepsake for ornamentation to add even more pop to your wrapping.
Consider the season when wrapping your wedding present. Depending on the time of year, try adding a few spring flowers, colorful fall leaves or glittering holiday décor along with the ribbons.
Or personalize your wedding gift with monogramming on the gift-wrapping. Add the couple's initials with a large stamp onto the wrapping paper, being sure to coordinate colors for the monograms with the paper and ribbons to complete the perfect matrimonial look.
Birthday Gift Wrapping Tips
Be sure your gift shows that you are ready to celebrate by enveloping your gift in wild prints and papers. Birthdays are all about fun, so your present should showcase that sentiment as well.
For kids' birthday gifts, use wrapping paper with a favorite cartoon or TV show character and add plenty of exciting ribbons. Kids love tearing into wrapped presents like madmen, so steer away from gift bags that tend to end the experience too quickly. Again, a tiny toy tied into the ribbon on top both looks cute and adds a little bonus present for the birthday child.
For grown-up birthdays, personalize your gift wrapping to fit the recipient or to compliment the style of the party. That could mean an uber-classy, satin-finish wrapping paper with a large, elegant bow on top. Or it could mean packaging your gift inside a pinata for a Margaritaville birthday bash. As when choosing the gift, think of whatever type of wrapping would make the recipient smile.
Whatever the special occasion, be sure to take the time to tie up your gift with a special touch of thoughtfulness. Your gift's recipient will surely be impressed with your effort and love the gift even more.