Dog Walkers Can Help When You Can't Take Your Pooch Out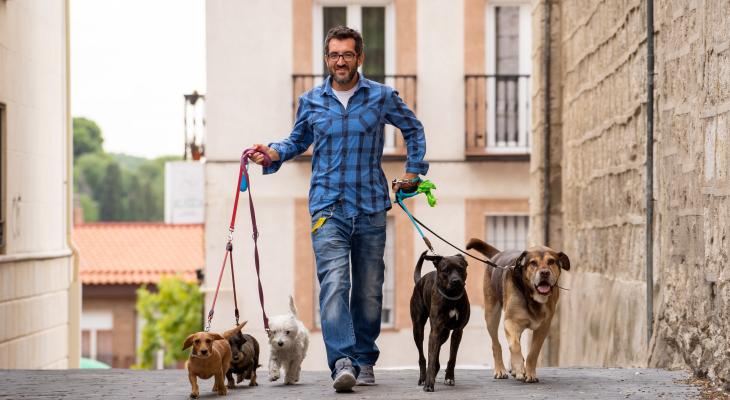 Now, more than ever, people are hiring dog walkers to take their pooches on a stroll. Walks are imperative for any kind of pup as they provide the needed physical exercise and mental stimulation to remain healthy and happy. Unfortunately, sometimes a busy schedule can get in the way of ensuring dogs get the walks they need. Other times, people may have physical disabilities or limits that prevent them from being able to keep their dog active. To get over these hurdles, many are wanting to find the right person to not only walk their dog, but to also develop a good relationship with him or her. There are certain traits to look for when trying to find the perfect dog walker, as well as a variety of ways to actually obtain one. Keep reading for the best tips and tricks to finding the ideal canine lover:
When to Use a Dog Walker
As mentioned above, there are a number of reasons why someone might need a dog walker. A particularly busy or irregular schedule can really get in the way of walking one's dog. As pets, dogs need a stable routine in their lives to live healthily and happily. This is particularly true for puppies, who require more bathroom breaks and more exercise than older dogs. Another good reason to opt for a dog walker is in case a dog starts portraying behavioral issues. If it seems that a dog is uncomfortable being around many new people, places or things, an increased and steady amount of walks may make him or her more at ease and able to adjust to new environments on a smoother level. Lastly, if an owner has physical limits that make walking either very difficult or an impossibility, dog walkers can take away the worry that his or her pup isn't getting enough outdoor time.
Traits to Look For in a Dog Walker
A dog walker is not just someone to walk one's dog. They need to have a good relationship with the pet. If a dog is uncomfortable around its walker, it certainly won't enjoy its walk! Dog walkers will be supervising one's pet and make certain the dog remains safe while walking, therefore he or she needs to be attentive and caring. Settling for someone who loves dogs is not enough. They need to have a positive connection with an owner as well. Traits to look for when hiring include choosing someone who is punctual, trustworthy, and responsible. The dog walker needs to be someone who abides by the local area's rules towards dogs, including not taking the pooch to any places where they are not allowed, picking up after the dog and not allowing the dog to go out from its leash. Discussing these matters is an important step to take when securing one's dog walker.
Finding a Dog Walker
Luckily, there are countless ways to find the perfect dog walker. For those who prefer word-of-mouth, asking other pet owners, including friends, colleagues or fellow owners at the dog park for recommendations is always a good way to go. Additionally, vets, groomers and local dog shelters often have connections to dog walkers in the area and can give great advice. Lastly, those who prefer doing their business online can find an abundance of websites and applications dedicated to dog walking. The best rated ones include Rover, Wag!, and DogVacay. Those who prefer regular internet sites versus apps can use resources such as Craigslist, Care.com and even Petco.com to either make or respond to a listing for dog walkers. Furthermore, there are plenty of pet-lover groups across social media sites such as Facebook and Instagram that often give detailed information and suggestions. Fortunately, there are plenty of resources available in order to find the perfect dog walker. Now's a better time than ever to find the ultimate human companion to one's beloved canine.