A Kitchen Island Can Add Convenience and Value to a Home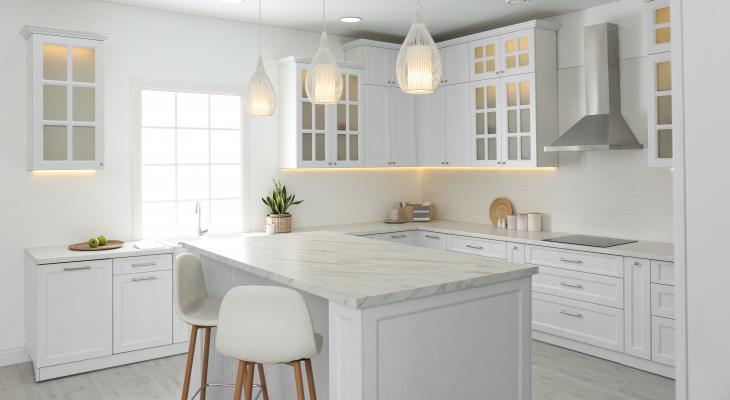 There are a wide variety of great kitchen additions that can boost the productivity, convenience, aesthetics, and functionality of kitchen space.
This usually will result in a substantial boost to property value. Kitchen improvements offer many benefits to homeowners; one of the biggest is the boost it provides to home functionality and convenience. Since the kitchen is one of the most used rooms in a home, keeping it updated and making positive improvements is vital. While some kitchen amenities can last for generations, upgrades to some kitchen areas are recommended every ten years, depending on wear and tear. A kitchen island is one of the best upgrades possible. It will give you more space and the ability to prep food for meals. Islands can be multifunctional. Some function as tables. Some have sinks. Some can even have cooking utilities built into them.
Benefits of Having a Kitchen Island
One of the most common kitchen upgrades for remodeling includes doing projects such as updates with flooring, countertops, or adding a center island. Center islands offer significant improvements for overall kitchen functionality and aesthetics. They come in a variety of designs and feature various amenities. Because they are located in the central area of the kitchen near the ovens, they usually create significant improvements in the ease of cooking and preparation.
There are a wide variety of center island designs meant to boost kitchen ease. Deciding what design works best for a home usually involves analyzing a combination of aesthetics and functional needs. The basic models for most center islands include features such as:
Stove Top Cooking
Sink and Countertop Space
Breakfast Nook with Chairs
Countertop and Grille
Each of these designs offers unique benefits for homeowners and allows for additional cupboard space. It also helps create space where cooking and food prep can be done next to oven areas, which helps enhance convenience and kitchen functionality. Most center islands are built with a combination of drawers and cupboard space to allow for silverware, cooking utensils, and pots and pans to be located in a central spot for usage.
Installing a Kitchen Island Yourself
Island installation requirements vary depending on the design that is chosen. The installation of a non-mechanical center island is relatively easy. This generally requires installing the center island over the flooring, so the look is flush with the flooring.
When creating a location, it is vital to ensure the island positioning is precisely measured, and a chalked footprint area can help ensure the island is installed in the right spot. The tools needed for a standard island will include a drill, measuring tape, screws, and a hammer. One way to secure an island is by adding wood cleats to the flooring. This allows you to attach the cabinetry to them. Standard wood cleats are two-by-two boards cut to the same length as the center island and screwed into the floor on each side of the island. This will help to keep it from moving off its location.
Benefits of Using a Contractor
For islands that require plumbing and electrical components, the use of a professional contractor is often a good choice. Due to the precision needed for this type of project, it is best to make sure a licensed and experienced contractor is used. Special plumbing and electrical wiring can be required under the flooring if the island requires it. This can also include drainage for sinks and proper amperage for appliances. These types of projects are best completed by licensed professionals who are familiar with this type of work.
Center islands that feature special cooking features such as grilles or stovetops or those with a sink and disposal will involve running the plumbing or electricity on the basement ceiling to the center island location. With the help of a licensed contractor, the process of hookup and operation capability can be completed within a few days in most cases.