Choosing the Right Mattress Is A Surprisingly Important Decision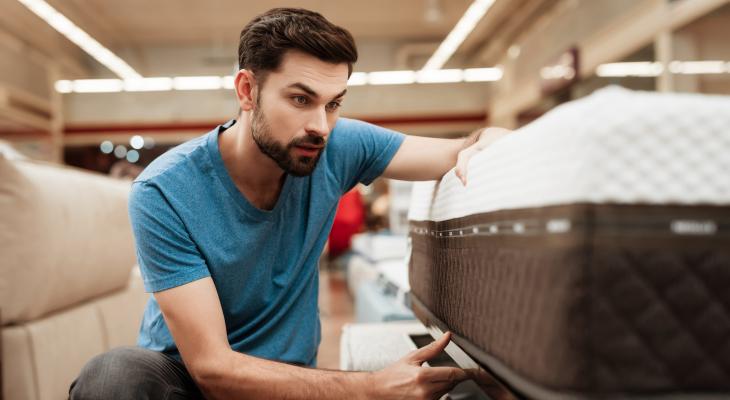 The average person spends roughly eight hours sleeping. That's a long time. Quality sleep is imperative.
Part of the process of getting a good night's sleep is having the right place to sleep. With that in mind, every part of your bedding has to work well. One part of your bedding that is of particular importance is that of the mattress. A good mattress is one that helps you to get to sleep fast and stay there. If you're picking out a new mattress or considering replacing your existing mattress, there are certain factors to keep in mind. You need a mattress that does the job and does it well. You also need a mattress that fits your body size and lifestyle. Careful attention to detail is a must. That will give you a mattress that fits your life and offers a true sense of relaxation.
Choosing a Mattress Size
One of the single most important things to keep in mind when you are searching for a mattress is the size you want. Mattresses come in many varied sizes. This ranges from the cot used for babies to the California king. The twin mattress is intended for a single, grown person. It's ideal for kids. Older teens and adults often prefer the full. The full is wider than the standard twin, leaving more room to stretch out. If you are sharing your bed with another person, the queen is six inches wider than the standard full. That is a good idea for married couples. When you really need more space, you can go for the king. The king mattress is 76" wide. It's 80" long. That is a good possibility for partners who are taller than average or just want that extra space. The California king adds four inches in length. That makes this one a good plan for very tall people who need room for their feet as they sleep.
Spring vs. Memory Foam vs. Hybrid
Modern mattresses are made of varying types of material. Of all the many types of mattresses on the market, three of the most common are spring, memory foam and hybrid. The spring mattress is a classic mattress that you've probably encountered before. Springs offer give and support. It's a good option for those who need a lot of support as they sleep. Pocket and offset coils are common. Both have the give you need as you rest. Memory foam offers comfort and lots of useful support. The really great thing about this type of mattress is that it will mold itself to your body's curves. It's a good option when you need a mattress that helps you avoid tossing and turning all night. A hybrid combines elements of both the spring and the memory foam. This one has several layers in a single mattress. For many people, it's a good possibility that offers the best of both worlds. Take the time to lay on the mattress before you buy it. Make sure it has the feel you want most before you bring it home.
Popular Mattresses
The modern consumer is very lucky. They'll find lots of different types of mattresses to pick from. That makes it easy to find the right one for their personal plans. For example, the Helix Midnight is a bed in a box. This is a hybrid, medium firm option with lots of features like a warranty that make it ideal. Another possibility is the Saatva Classic. This is a good option for the high end buyer in search of a luxurious mattress that delivers every single time. It's one that uses several types of foam for an experience that helps people to fall asleep faster. This mattress is popular in many upscale European hotels. For those who are looking for a mattress that fits into almost any budget, the Nectar Mattress fits the bill nicely. It's a well designed mattress made from foam. That makes it a good idea for those who like to sleep on their sides. They'll get enough cushioning along their spine and sides so they can wake up fully refreshed.