Waffle Makers Are a Nice Touch For Any Kitchen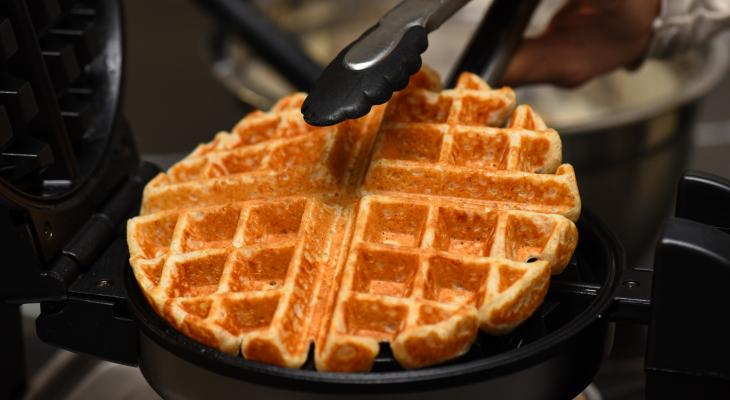 Waffle makers are such an easily overlooked appliance that aren't getting all of the attention they deserve.
Waffles are by far one of the most delicious breakfast choices, and not only do homemade waffles taste better, they are also way more healthy than the frozen options. Waffle makers are easy to use. Plug it in, let it heat up, spray it, and add your batter. With cooking spray, waffle makers are easy to wipe clean. They also cook really fast. They take just a few minutes to heat up and then a few minutes to cook. Waffle makers are inexpensive, with many models starting around $25. There are even a variety of foods other than waffles that you can cook in your waffle maker!
Belgian Waffle Makers
When shopping for a new waffle maker, there will be regular, square waffle makers and Belgian waffle makers. What's the difference? Belgian waffle makers are usually round and they make fluffier, thicker waffles. Belgian waffles have a golden, crispy outside, a thick, soft inside, and big, deep pockets in the top and bottom that hold more butter and syrup (that way there's some in every single bite). A Belgian waffle maker could be bought in the rotating style, but they are now also available with deeper plates that don't need to be flipped. The waffles each maker produces are different. Regular waffles are a bit heavier than Belgian waffles. Belgian waffles are usually made with egg and yeast, which give them their fluffiness. The pockets in Belgian waffles are larger and deeper than regular waffles.
Alternative Uses for Waffle makers
There are so many foods that can be cooked in a waffle maker besides waffles! A few of these are pizza, grilled cheese, quesadillas, omelets, hash browns, cookies, and brownies. To make pizza in a waffle maker, spread the pizza dough in the appliance and cook it for a few minutes. When the dough has cooked all the way through, add the sauce and toppings. Hold the lid low for a moment to melt the cheese. Grilled cheese sandwiches and quesadillas are essentially made the same way as in a frying pan or press, but a waffle maker gives them another spin. Low maintenance omelets can be made by mixing up eggs and your favorite waffles and cooking them in a greased waffle maker. Hash browns are quick and really easy to make by just throwing frozen tater tots into the waffle maker and cooking them for a few minutes. Finally, brownies and cookies can even be made in a waffle maker with your favorite batter or dough!
Best Products
Now we know why it's such a great idea to have this small appliance on hand in your home kitchen. The only problem now is that there are so many waffle makers to choose from! How does one pick the right one? Here are a few of the most popular waffle makers on the market, based on user reviews:
DASH Mini Maker
Cuisinart Round Classic Waffle Maker
DASH Multi Mini Four Waffle Maker
Hamilton Beach 4-Slice Non-Stick Belgian Waffle Maker with Browning Control
Cuisinart WAF-200 4-Slice Belgian Waffle Maker
BELLA Classic Rotating Non-Stick Belgian Waffle Maker with Removable Drip Tray
BLACK+DECKER Flip Waffle Maker
Cuisinart WAF-F20 Double Belgian Waffle Maker
Cuisinart WAF-V100 Waffle Maker
Cuisinart WAF-300 Belgian Waffle Maker with Pancake Plates
All-Clad Stainless Steel Classic Round Waffle Maker with 7 Browning Settings
Presto 03510 Ceramic FlipSide Belgian Waffle Maker
Babycakes Waffle Stick Maker
Chefman Anti-Overflow Belgian Waffle Maker