Webcams Ensure Communications Online is More Personal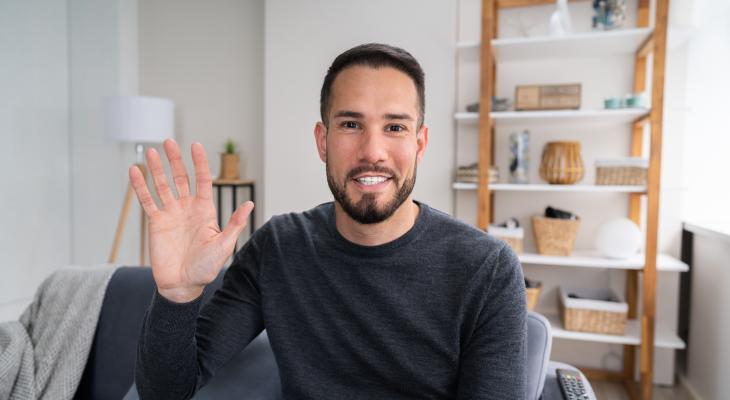 There's a good chance the computer you're using has a built-in webcam. Not all of them have them, but the ones that do have a small lens at the top-center of your monitor, above the viewable screen.
Others are standalone units you can move about your desk or room.
A webcam is a video camera that will feed video and audio (if equipped) to your computer in real-time for use during a video session through video services like Zoom, Google Meet, or Microsoft Teams. They use streaming video over the Internet when using either of these and have fast become the norm for video streaming.
Remember, webcams are a popular access point for hackers to break into your computer via the webcam. That's why you may see black tape covering them until they're needed. Also, Internet security suites often have options to enable protection against such attacks.
Webcam Uses
Whether your built-in camera is enough depends on how you plan to use it for your video needs. For example, if your primary use is on a laptop and you move around often, the built in camera is a good idea. Also, if you prefer to travel light without extra peripheral devices such as a portable camera to carry around, your built-in camera should suffice.
Training videos or professional presentations will require higher resolution like HD, and a portable or standalone webcam works well in these situations. They offer more versatility over a built-in webcam because you can move them around freely to get the best angle and lighting, especially when working from home or taking part in video meetings.
Kids and adults enjoy using their creativity by making minor adjustments to a designed scene and using their webcam to take a still picture of each slight change, then by using software, create a series of sequential images. The software does the rest and in no time at all, you have a real stop-motion movie to enjoy.
Using Built In Webcams
One of the primary uses of a built-in webcam is to communicate virtually with colleagues or customers, for example. Businesses today see the increase in productivity by using a built-in webcam because they're steadily replacing face-to-face meetings and reducing the cost and time-wasting hassle of business travel.
Just as important, virtual meetings and conferences happen in real time with the all-important visual component of communication included that vastly improves its effectiveness.
We would also like to mention built-in webcams are popular for taking pictures and for security such as facial recognition instead of passwords. This is something to consider as a potentially important factor when using your built-in webcam.
Also, have some fun. You can make animation, graphics, and effects from your computer using the camera. Typically, the software needed for special effects may not come pre-installed on your computer, so be sure to look for a suitable program to fit your needs.
Popular Third-Party Webcams
The availability of webcams is exploding with an overwhelming number of choices. Performance and resolution are the two most important factors in choosing a quality webcam. Excellent performance reduces or eliminates lag time and hesitation, while high resolution makes the video appear crisp and clear.
A great option is the Logitech (Logi) C920. It has a wide angle of view at 78 degrees, dual microphones for the best stereo sound, and automatic HD light correction. It features video at 1080P at 30 frames/s. The design of this camera allows easy attachment to laptops, monitors, or tripods.
The C920 is a brilliant choice, but if you need higher quality, the Logi C922 Pro Stream boosts the frames to 60, and in the same design as its C920 counterpart. For a good starter webcam, the Logi C310 boasts crisp video at 720p, which compares similarly to the Microsoft Life-Cam HD-3000.