Choosing a Great Air Fryer Means Healthier Fried Food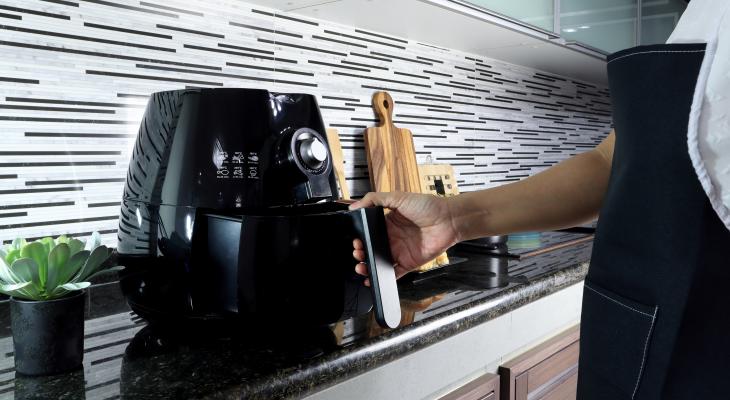 Over the years, air fryers have gained tons of popularity in hundreds of thousands of kitchens all around the world.
Even famous chefs have not been strangers to using air fryers. When purchasing an air fryer, it is very important to take into consideration several factors like price, size, and quality. They are used for a variety of dishes and know no limits of their ability. If unsure which air fryer is the right one, there is a list below of some of the top fryers that will match the needs and budget for those who are interested in buying one. There is no need to be a genius to use or purchase an air fryer. Whether it is a first time purchase for someone who does not know anything about air fryers or an experienced air fryer connoisseur, there is surely something on this list for everybody.
1 - Cosori Air Fryer
Priced at less than $110, this 5.8 quart sized and easy to clean air fryer has received multiple positive reviews on Amazon. It is non-stick and can be easily stored. It uses up to 85% less fat than that of a traditional fryer. It's equipped with an LED digital touchscreen and thirteen different functions. In comparison to numerous 5.8Qt baskets, the Cosori Square basket contains a much larger amount of space to add additional food than the round design common in the market. The nonstick baskets are removable and are dishwasher safe.
2 - Dash Compact Air Fryer
This one is mostly used for 1-2 people, but it is very reasonably priced. This is highly recommended for those getting their first apartment or someone who lives alone. Do not let the size fool you. You are able to cook more food than you might realize. The disposable parts can be washed in the dishwasher as well, which is a big selling point for most. It is equipped with temperature control and a built-in auto shutoff feature.
3 - Chefman 6.3 Quart Digital Air Fryer
This air fryer has a double rack, unlike most air fryers that contain just a basket. The double rack feature makes it very possible and convenient to cook more food for a meal all at once. Consider chicken on the top rack and fish on the bottom. This also comes with a built-in auto shutoff feature, as well as an interior light, which makes it easier to keep an eye on your meals while they cook.
4 - Cuisinart Air Fryer Toaster Oven
The name speaks for itself. While slightly more expensive than the others, this air fryer is more than just an air fryer. It is a toaster oven that's easy to use and performs multiple functions. Several reviews have stated that it toasts evenly, as the heating function helps with browning off food and making it crispy. This is a great appliance to have for families, as you can make numerous meals at once with it.
5 - GoWISE USA 12.7-Quart Electric Air Fryer Oven w/Rotisserie and Dehydrator
While this may be a family sized air fryer, it is best to be used on larger countertops. It contains three racks and also includes several accessories, as well as a book with 50 air fryer recipes to get the buyer started. It is one of the top rated air fryers on the market, but also, the largest. It is equipped with 18 functions, as well as a 360 degree high-speed air circulation fan.
6 - Emeril Lagasse Power Air Fryer Oven 360
This 9-in-1 multicooker can (and should) replace your countertop convection oven. It contains 5 different heating elements, all of which mimic commercial-quality cooking. While this air fryer is priced a little higher, it is 40% faster than that of a regular oven. It provides 12 different cooking functions, an LED digital touch screen and is considered to be one of the most beneficial devices used to cook around the holidays. It is 1500 watts, making it 40% faster than a regular oven.
7 - Ninja Foodi 9-in-1 Pressure, Broil, Slow Cooker
This is for those who enjoy doing more than just using an air fryer and considers it to be a worthy purchase. It contains a 6.5 quart capacity and even comes with a recipe book with 45 recipes in it to get started. This is a great option to consider if you enjoy making multiple meals using multiple methods. The pressure cooker cooks up to 70% faster than other cooking methods, and even contains 14 levels of safety, giving you the peace of mind you need.
8 - Philips Airfryer
With the ability to fry food 50% more evenly than most air fryers, there is absolutely no need to turn your food halfway through. It also contains over 200 recipes in the app as well as a recipe book. This air fryer is easily stored and all parts are dishwasher safe. It has a quick clean basket option making cleaning any mess easier than using a dishwasher. This particular air fryer also has technology to help remove any fats from your meals, making it one of the most healthier options to use when cooking.