You Can Get Your Dream Kitchen Through a Remodel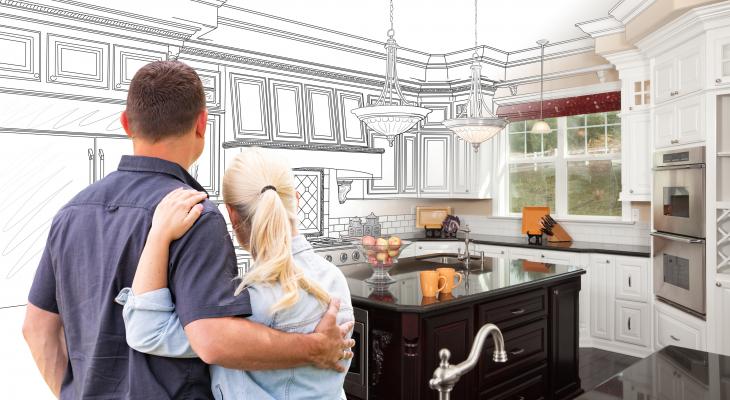 Your kitchen is likely one of your favorite places in your home. Kitchens tend to become a social hub of a home.
It's where comfort resides. It houses all of your delicious food and kitchen appliances. However, there's always room for improvement when it comes to a kitchen. Maybe your current kitchen doesn't have the functionality you've always wanted or maybe your appliances just aren't cutting it as you become a better chef. Remodeling your kitchen is a big step toward securing the kitchen you've always desired. It's definitely a big commitment, but one that can have a huge payoff in the end if you follow through. Let's take a look at how to get your dream kitchen through a remodel.
Design Tips for A Kitchen Remodel
Designing your kitchen yourself isn't easy. Kitchen remodels can be expensive as well, so it's important to not make any mistakes when you're planning things out. Consider these tips as keys for your plans:
Space is key - It might be tempting to pack your new kitchen with as many appliances and tools as possible. However, this isn't always wise. It's important to recognize that the best kitchens have a good balance between appliances and open space. There's nothing worse than a kitchen that is overly cramped without any space to move.
Tiling is your friend - There are many surfaces in your new kitchen from the floor to the tabletop to the area above your sink. In general, designers have been favoring tiling over any other surface in the last few years. Tiling looks professional without attracting too much attention. It's also very easy to clean no matter how big of a mess you make. If in doubt, look to tile your kitchen with natural granite or another type of limestone.
Many cabinets are not your friend - On the other hand, kitchens with tons of cabinets have fallen out of favor over the last few years. It might be tempting to line your kitchen with many small cabinets to store all of your supplies. You have to realize that all of these handles protruding from the surface is not a very aesthetic look. In addition, larger cabinets with dividers inside might just get the job done more efficiently.
Appliances first - If you don't know where to start, one great way to begin the process of remodeling is to envision where you want all of your appliances to exist in the kitchen. These objects are on the heavier side and will likely occupy a permanent space. Fixate the refrigerator, microwave and stove first. Then, you can design the rest of your kitchen around these things. By working from large to small, you can find the best position for each item.
Less is more - Keep in mind that remodeling your kitchen doesn't always mean changing every single bit of its layout. There's no harm in keeping the elements you like and changing the ones you dislike. On occasion, people get so caught up in remodeling that they lose focus on the overall objective, to create the most amazing kitchen possible. The bottom line is, less can often be more when it comes to remodeling.
Choosing a Contractor
To achieve all of the above dreams, you'll almost certainly need a contractor you can depend on. One natural way to choose a contractor is to select someone you've worked with before. If you still have the contact info from the contractor who initially renovated your home, give him or her a call. They will be familiar with the layout of your home and the best ways to proceed. In addition, they will likely understand your preferences and the dream kitchen you envision. When you're on a first name basis with your contractor, it makes the process so much easier on both ends. You can trust that they will do a thorough job, and they are familiar with the client they are working for.
Another good way to choose a contractor is to select one that specializes in kitchens. Some contractors are jacks of all trades that can handle everything from kitchens to roofing to basements. However, if you want the job to be done perfectly the first time, you might favor a contractor who has kitchens as their speciality. They will have the experience to suit all of your needs and much more. When you look through profiles of contractors online or in a newspaper, read their credentials. Select one who has a good deal of experience with kitchens and remodeling jobs in your area.