Clean Your House More Easily With One of The Best Vacuum Cleaners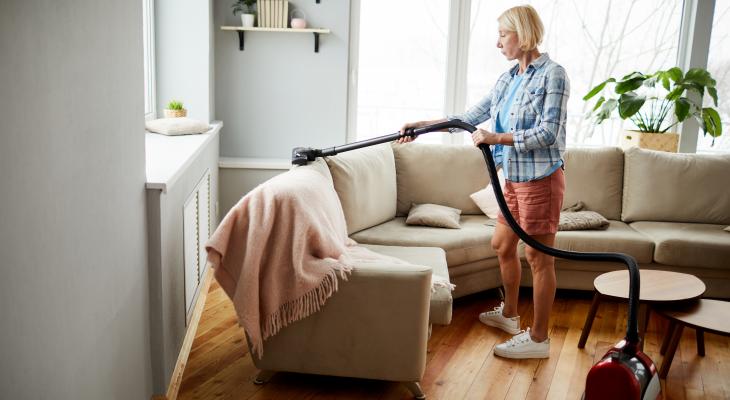 We all know that one of the hardest parts of being the head of the house, whether you rent or own, is keeping it delightfully clean.
Keeping your living space clean is important, and it can be easy when you have the right tools to do so. One of the biggest things not to skimp out on is a solid vacuum cleaner. A good vacuum cleaner can make your cleaning routine as easy as pie. Using a bad vacuum is asking to waste time. Having to re-do the same area repeatedly because it didn't work the first time is ridiculous. There are simply not enough hours in the day to have to re-vacuum your space over and over, especially with so many new technologies on the line. Here are some of the best vacuum cleaners on the market for 2021 to make your cleaning routine as simple as possible.
1 - Shark Navigator Professional Lift-Away Bagless Upright Vacuum, NV356E
This vacuum is great for its anti allergy properties, and large bag, meaning you will have to empty it less frequently between cleans. This vacuum is particularly great on a variety of different surfaces. Move easily from hardwood to carpet and back resting assured that your space is thoroughly cleaned.
2 - Eureka Blaze Stick Vacuum Cleaner
If you are on a bit of a tighter budget, the Eureka Blaze Stick Vacuum from Amazon is an incredibly budget-friendly find. It is light-weight and easy to carry from room to room. It specializes in picking up pesky pet hair to keep your home spotless even during shedding season! This vacuum's swivel steering and washable filters will have you done with your cleaning routine in a gif!
3 - iRobot Roomba 690 Robot Vacuum
Step into the future with the Roomba 690! This vacuum has wifi and can be controlled right from your phone. It contains a three part cleaning system that can pick up anything from tiny crumbs to large pieces of debris. Simply program into your phone where you want the Roomba to go, and sit back and relax as it cleans your entire place. This one is a bit pricier, but will save you hours and hours when it comes to keeping your places sparkly clean.
4 - Dyson V11 Animal Cordless Vacuum
Another choice that is a bit out of the ordinary is the Dyson V11 Animal Cordless Vacuum. Like it says in the name, this vacuum is cordless, making it easy to zip from room to room without having to stop and unplug and restart as you get your entire house squared away. This vacuum is light-weight, easy to use, and has about 60 minutes of uninterrupted battery time.
5 - Bissell Featherweight Stick Lightweight
If you are looking for something easy to maneuver, the Bissell Featherweight is your most light-weight option. This is a great way to teach your kids how to vacuum and is so light a literal child could do it. It has multiple nozzles and cleaning modes to make keeping your home clean as easy as possible. This is great for apartments and other small spaces where a traditionally larger vacuum would be harder to store.