A New Garage Door Can Add Needed Style To a Home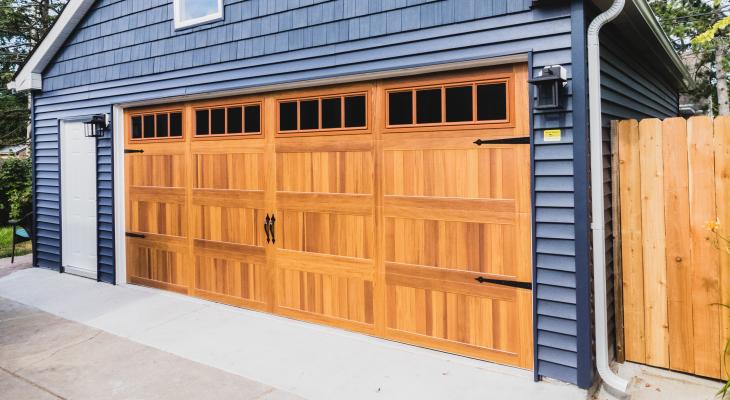 Garage doors are not only necessary to access valuable space that is protected from the exterior elements, but they're also a style statement for any homeowner.
When the garage doors are styled similar to the overall look of a home, they can provide that final, perfect piece to an extravagant look. However, not considering the style of garage doors can turn into an eyesore for any homeowner.
When selecting the right garage doors for a home, there are many things to consider. Some of these include the style, size, material, and smart functions. Enlisting the help of a garage door installer can reveal some valuable information that may be hard to discover on one's own. However, with a little time and choice, a garage door can protect what's inside while making a statement about the style of the homeowner.
Garage Door Styles
As more and more homeowners are adding garages to their design plans, more garage door styles have become popular. To make things simple, we're going to discuss the four most popular styles of garage doors that homeowners throughout the United States use. These include:
Raised-Panel Doors - By far, the most common style of garage door is the raised-panel. They've become the homeowner standard as they're available in many different colors. These doors are comprised of floating panels that give depth to the door. These panels are often molded right into modern fiberglass doors to provide that classic raised-panel look.
Traditional-Style Doors - Traditional is a name given to garage doors that complement the major architectural style of the home. Some common home styles include Victorian, Ranch, Colonial, European Tudor, and American Prairie. These doors typically have to be ordered in advance from a garage door manufacturer or vendor.
Carriage Doors - Carriage doors get their name from their distinct look of old doors found on carriage houses. Traditionally, carriage doors were constructed to swing open on both sides via manual door handles and hinges. Modern styles offer a foldable carriage door that still has the old-time charm that traditional carriage doors offer.
Contemporary Slab Doors - Homes with a contemporary design beckon garage doors that meet their modern look. While certain house styles can allow the homeowner to choose from a variety of styles that all look good, modern houses do not. They need to have slab doors, typically made of tempered glass and metal.
Garage Door Materials
Just as there are many styles of garage doors, there are just as many types of materials they can be constructed out of. Each material has its pros and cons when compared to the next. The most commonly used garage door materials include:
Steel
Wood
Wood Composite
Aluminum
Fiberglass
Vinyl
Most steel garage doors are made with multiple layers of galvanized steel, and they're fairly cheap for the average homeowner. However, steel doors are more prone to denting and corrosion from adverse weather. Aluminum is another metal door option that eliminates the problem of corrosion for a few extra dollars.
In the mid-grade range, we have vinyl, composite, and fiberglass. These materials are less susceptible to denting, which is a major plus for homeowners. Most of these types of garage doors come with a layer of insulation that can help to reduce heat loss. Homeowners will find a variety of options when it comes to colors and styles, which help to create both a realistic and aesthetically pleasing look.
Wood is considered a premium construction material for garage doors. This type of garage door is built with multiple layers to prevent warping of the door. Wood tends to be the most expensive garage door material on the market. Some of the most popular types of wood used for garage door construction include fir, redwood, and cedar.
Smart Garage Doors
As technology continues to advance, new smart garage doors are being offered. The door itself is not integrated with technology. Rather, it's the door opener that offers online connectivity that allows the homeowner to monitor and control their garage door from the convenience of their smartphone.
This smart home automation device can typically be added to any style of garage door. A homeowner can be alerted when their garage door opens or closes throughout the day. They can even choose to open or close their garage door remotely from their smartphone device.