A Beautiful Sink Can Be A Kitchen Attraction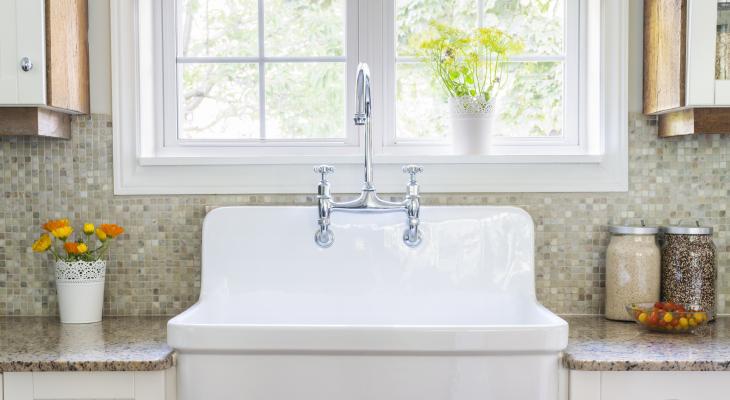 People spend more time in the kitchen than they realize. You notice this when you go to a party.
It's shocking how much people congregate in the kitchen. If you're the one throwing that party, you want your kitchen to be beautiful. A large part of the beauty in your kitchen comes from the kitchen sink and faucets.
The sink doesn't get enough credit for being beautiful. It's such an important and constantly used part of the kitchen that people can forget about it. Somehow, the utilitarian nature of the sink brings it down. That being said, there is a huge variety of different types of sinks. Where it mounts and what it's made of can make a huge difference in design. It may be time for a new kitchen sink, but if it is, which of these types of sinks is right for your kitchen?
1 - Undermount Sinks
These sinks give a sleek and modern look to any kitchen. Rather than being obviously installed above the counter, they are installed beneath the countertop. This gives the counter a beautiful and seamless look. This also helps when cleaning the counters or cooking. Items can be slid directly into the sink with zero resistance or blockage. Undermount sinks look great, but some people worry about installation. Most use heavy glues that will attach the sink to the counter. This means that the heaviest types of sink (cast iron for example) can't fit properly.
2 - Stainless Steel Sink
This is your standard kitchen sink that is often installed. It's top mounted, making it easy to install. The stainless steel won't rust or stain, making them fairly good options in most situations. Stainless steel sinks are priced based on their thickness. In this case, less is more. Thinner sinks are lighter and cost more because of that. While these may not be ideal luxury sinks, they can fit almost any kitchen.
3 - Apron Sink
This type of sink is also known as a Farmhouse sink as it has some similar traits to large classic sinks commonly found in farmhouses. APron sinks are often interesting because the edge of the sink actually comes out farther than the countertop. While they can be purchased with a single basin, many people love the double basin option of an apron sink. Farmhouse sinks are heavy. They can be made of fireclay or cast iron with porcelain coating them on top. Since they are large with deep basins, they can hold a large amount of water or dishes, making them perfect for a big family. The apron sink is a beautiful addition to any rustic kitchen design.
4 - Composite Granite Sinks
These sinks are actually made from a granite composite that is made using crushed granite and resin. These can give a lot of the same benefits that a stainless steel sink gives, but do so with a very different modern look to them. These sinks don't take on stains thanks to the creation process and are very durable. Unlike stainless steel sinks, these are much quieter. The density of the granite composite means that hitting it with implements won't result in nearly the crashing and clattering sounds of a stainless steel sink.
5 - Island Sink
This type of sink is obviously dependent on the kitchen having an island in it. The island sink can open up a lot of counter space near the stove and oven. This often makes food prep even easier. In some cases, an island sink can be a separate secondary prep sink. An island sink can really improve the overall workflow of your cooking space. This can save you on prep time and is especially useful when multiple people are cooking together.