A Back Yard Pool Provides Hundreds of Hours of Fun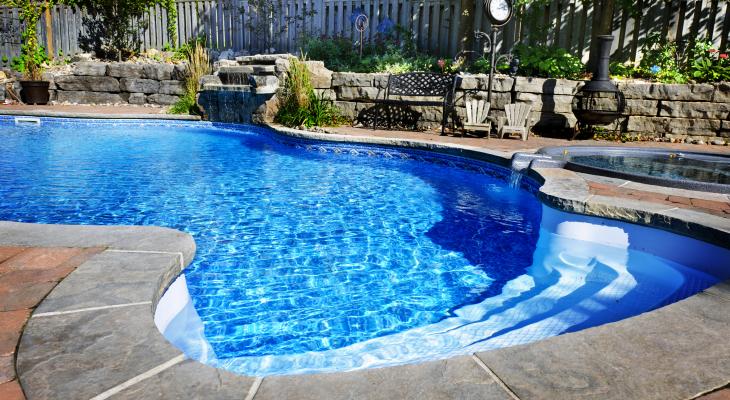 Hot weather is a fact of life. When the summer heat hits and people are sweating, they want an easy way to cool off.
One of the best ways to relax and cool down is with a personalized backyard pool. Pools are a great thing to add to any home. They're easy to set up, easy to keep clean and provide every member of the family with hours of fun. If someone is trying to decide on the right kind of pool, keep in mind there are lots of things that must be considered. Homeowners want a pool that fits their site well, offers easy access to the water and allows them to swim safely. They also want pools that have a sense of personality and are designed for their specifications. Any homeowner should take the time to explore what choices are available and ensure they have the right fit.
Benefits of Having a Backyard Pool
There are many benefits to having a backyard pool. A pool can be used any time the owner wants. There's no need to adhere to a public pool schedule. A backyard pool can be open all year long in milder climates. In cooler climes, the owner can open the pool at the very start of the hotter weather and keep it open well into fall if the weather is warm enough.
The owner can also customize the pool to their exact specifications. If they want a pool with a waterfall or swim up bar on a side, they can get it added. If they want lots of space to sit down and have a drink, they can put in areas to sit back next to the pool that let them sunbathe. A backyard pool is also perfect for entertaining. People can invite others for pool parties as often as they like. Backyard pools can help people make new friends. Kids can play pool games while adults chat.
Types of Pools
As homeowners thinking about putting a backyard pool soon discover, there are many types of pools available for installation. These include:
Above ground pools,
Plunge pools,
Lap pools
Standard pools.
An above ground pool is a pool that is set up at the start of the season and removed for storage afterwards. Above ground pools have the advantage of being easy to use and ideal for small backyards. However, they can also be hard to keep clean and may develop problems after a single season that render them unusable next year.
Plunge pools are another popular choice. These are smaller than average pools. They are intended for cooling off rather than swimming. Plunge pools have grown in popularity in recent years. They don't require a great deal of space and they can be customized to each individual user's needs. This is a good choice if you just want a place to splash and cool down.
Lap pools are designed for lap swimming. For those who love swimming, a lap pool is a must. Many lap pools are rectangular in shape, allowing the user to move back and forth as desired. A lap pool can be added at one end while other areas are kept for splashing around.
Standard pools are typical pools that work for a wide variety of situations. This is a good choice for the homeowner in search of an all round solution that allows for everything from cool down to entertaining and swimming laps.
The Installation Process
Installing a pool can take time. It's a good idea to begin before the hot weather hits. Working closely with the pool installation team is also imperative. Many homeowners have a specific place they'd like to place the pool. Pool experts can help decide on an exact location in case there's extra power or plumbing hookups needed.
After that, the company comes in and starts to dig a hole (assuming it's an in-ground pool). The ground designated for the pool needs to be completely level. What happens next will vary depending on the type of pool. A company may fit a prefabricated fiberglass pool inside the given location and then fill it with water. Or they might add the plumbing system and then fill the pool location with concrete. Then, they'll add a pool liner and install the desired coping on the sides. All pool filtration systems must be working before the pool can be opened. Once this process is completed, you'll have the ideal place to relax in the sun.