Choosing the Best Baby Carrier Isn't Easy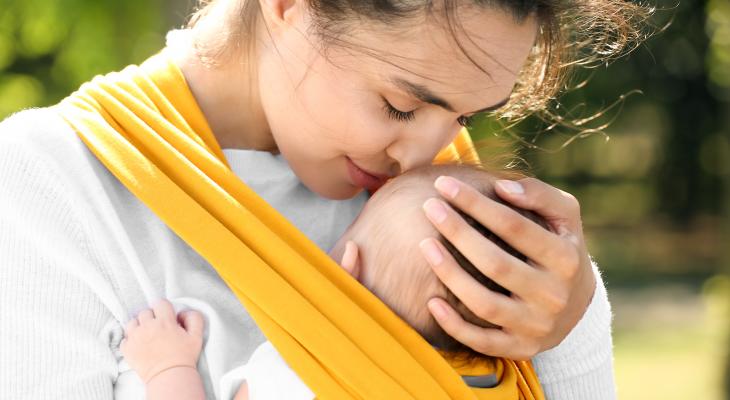 Holding babies with the help of a baby carrier, wrap, or sling is great for both parent and child.
Moms have been carrying their babies for years, and today there are so many options that it can be very difficult to know where to start looking. There are various kinds of carriers that are helpful for different stages of a baby's life, but the type of carrier you want may also depend upon the purpose and length of use. Every parent wants to be able to carry their baby safely without sacrificing comfort or a painful back. This article is going to focus on the various aspects of baby carriers and assist in trying to determine which type of carrier might be the ideal form for you.
Structured Carriers
A structured carrier typically has two straps to go over your shoulders and a buckle to go around your hips and waist, and of course a soft place to keep the baby. There are structured carriers that are meant for front carry and back carry, or both. The Ergo Omni 360 is one of the most versatile structured carriers available today. The Omni part of the name refers to the fact that there are all types of ways to use it to carry your baby- front with baby facing in or out, on your hip, or on your back. The Ergo Omni is perfect for newborns up until they are 45 lbs. The Ergo is famous for its comfort level on the back and hips. Another structured carrier that is a bit less bulky than the Ergo is the Tula. Tula offers many varieties of carriers and comes in many different colors and styles. Made of cotton or linen, the material is soft and breathable. The Tula baby carrier can be used for babies 7-45 lbs, but Tula offers toddler and preschool carrier options up to 60 and 70 pounds. The Boba carrier is a third option for a structured carrier and is very similar to the Tula with slight differences in the straps and the dimensions. Boba carriers are also suited for both front and back carry positions.
Wrap Carriers
Baby wrap carriers are made of fabric and are comfortable for both parent and baby. The K'tan is a simple wrap, easy to use, and sized according to the parents' particular fit. It has two loops that connect at the center and no fabric hanging down that is not needed. The Moby and the Solly wrap are similar and made of one long piece of fabric. The Solly has more breathable fabric than the Moby, so keep that in mind in a hot climate. These wraps carry the baby on the front facing towards you, with the Moby having an option for side carry. Also, the Boba wrap is a stretchy wrap, not to be confused with the structured Boba carrier. Wraps are great for babies during their early months when they love to sleep a lot and be close to their mom or dad.
Sling Carriers
Ring Slings can be very versatile for babies and moms. There are two large rings that the fabric slides through, and the fabric goes over one shoulder instead of two. The design makes them easy to use because you do not have to wrap fabric and tie knots. Many moms love to use these around the house as they take care of their baby during the busy day. Ring Slings can be found made from various types of fabric and can also be home made, giving even more ways to make them unique.
Choose What Works Best for You
If you will be going on long hikes with your baby or toddler, a structured carrier may work best. If you are a busy mom with many responsibilities during the day, you may consider a ring sling. If you are looking for something soft and comfortable, you may want a wrap carrier. A baby carrier can be a great asset to make parenting easier, no matter the type you choose!