An RV Lets You Travel America In Comfort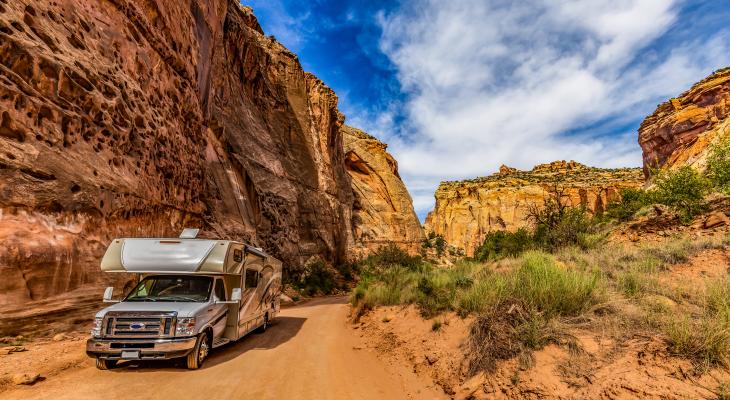 Travel is one of the best ways to expand how you see the world.
When people travel, they have the opportunity to meet new people and see everything from teeming cities with varied cultural attractions to majestic mountains perched on the edge of the ocean. If you're thinking about hitting the road, you'll want to do it in total comfort and true ease. These are just some of the reasons why people choose to travel with an RV. Americans are lucky in having so many places that allow for easy RVing. The vast and fertile fields along with a well developed highway system make it possible to go just about anywhere you like without leaving the country. From the wilds of Alaska to the glorious towns that dot the California coast, an RV is one way you can experience it all right from the relaxation of your own personal space.
Recreational Vehicle Features
One of the best things about traveling with an RV is such vehicles have so many different kinds of interior features. The kind of features you want will depend on your travel plans and overall budget. If you're bringing the whole family you're going to need more space than if it's just you and your retired partner. A smaller RV also allows you a greater choice of campsites as many spaces only have room for a certain number of vehicles of a certain size.
In general, most RVs have seating up front that allows you to concentrate on the road. After that, they have a place to sleep in the back. Many vehicles also have other kinds of features. You might find a working kitchen complete with a fridge, lots of storage and a stove and microwave to make breakfast. You'll also have a dining area and even space for a living room where you can watch television.
RV's will also have a bathroom. Size can be an issue, but they do in a pinch. Many also have a place to take a shower. You might also see what is known as a slide-out. A slide-out is a part of the RV that can be expanded from the side. That allows you additional square footage so you can invite people over for supper or provide sleeping spaces for the grandchildren.
Types and Sizes of Recreational Vehicles
If you've never done so, shopping for an RV can be confusing. Fortunately, RV sellers have divided RVs into a few basic categories. These are known as RV classes. In general, RV classes range from very large Class A vehicles to the smallest of travel trailers.
The largest or Class A trailers typically fall between 13,000 and 30,000 pounds. These are the RV for the person who wants every possible feature. This is where you'll find your king sized bed and brand new kitchen. Keep in mind they aren't cheap. They're also likely to exceed the size allowed in many national parks.
The Class C vehicle is the next step down. This is a good choice in a mid-sized vehicle for the recreational camper who wants some privacy. They range from 10,000 to 13,000 pounds. A good option for those who are on a budget but still want something they can use is the Class B vehicle. They're also known as camper vans. These are vehicles that allow you to keep to a budget and still offer amenities you want such as bathrooms and enough sleeping room. The travel trailer is essentially a small room on wheels. This is a good choice for someone who wants something a little better than a tent.
Buying New vs. Buying Used
Anyone in search of an RV to purchase can buy a new vehicle or a previously owned item. Both options have pluses and some important drawbacks. The new vehicle is an up-to-date choice in every way. Newer vehicles have many advantages. They tend to have updated safety features. They're also more likely to be fuel efficient. Advances in materials have made many such vehicles lighter and therefore less gas guzzling. A new vehicle also allows the person to customize to their personal tastes. People can pick out the precise colors, features and options they like best.
On the other hand, a used vehicle tends to cost a lot less. Many are smaller making them much more maneuverable. That allows the user to save time and relax. It's more money in the budget to apply to your travel plans.