An Elliptical Machine Provides Low Impact Cardio Exercise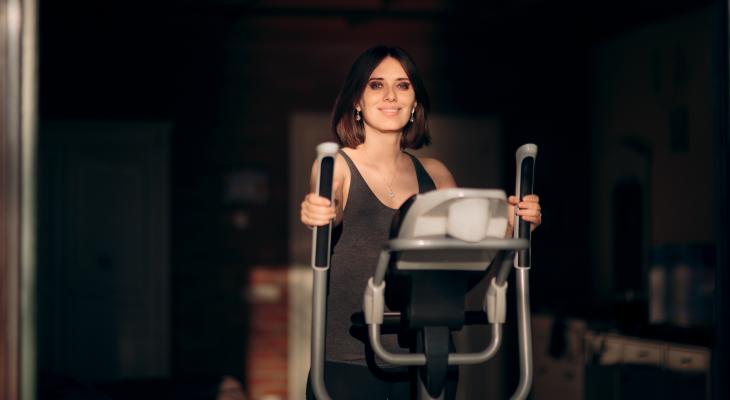 Cardio exercise has long been known to boost heart health while burning calories. By using low-impact fitness machines, the body can circulate blood while decreasing the likelihood of muscle tear.
Ellipticals are one of the most popular exercise machines available today because they can exercise both the lower and upper portions of the body.
Since low impact exercise is often preferred because it is easier on the body, ellipticals are a popular exercise option for many people. This kind of exercise still burns calories and can shape the body, but it is often performed with at least one foot on the floor. Low impact exercises can include, cycling, hiking and the elliptical machine.
Benefits of Elliptical Exercise
There are many benefits you can get from an elliptical workout. Some of these include:
Core exercise
Arm strength
Posture improvement
Weight loss
An elliptical machine consists of two parallel levers and two foot pedals. Its design ensures that both the upper and lower body can get a proper workout. The most effective way to use an elliptical is to use an upright posture with a focus on the abs.
The way an elliptical machine works is by standing on both pedals while using a running motion. While continuing to work the legs, the arms will swing in a back and forth motion to create arm muscle and burn calories. By pushing and pulling both handles while using the foot pedals, the upper, lower and core muscles are exercised.
Choosing An Elliptical
Many ellipticals are purchased for in-home use. Since there can be many different models to choose from, knowing the key factors to an efficient elliptical are crucial. Adjustable inclines are an important feature to any elliptical. By being able to adjust the incline, different muscle groups can be used in any routine. Eliminating boredom by being able to switch-up workouts can frequently boost motivation.
Rigidity should be avoided when finding the right elliptical. Smooth ellipticals that are able to transition from walking to running are ideal. If there is a pause when the heel moves off the platform, this can create problems in the rhythm.
Resistance is one of the best features an elliptical can have. A broad range of resistance can increase the impact of a workout over time. Being able to adjust this feature ensures that a workout does not have to be too difficult in the beginning.
Popular Elliptical Models
There are several types of ellipticals that have different benefits depending on the priorities of the individual. Some of the best include:
The Sole 325 Elliptical. This elliptical is especially beneficial for the knees and ankles. It has 20 levels of incline and was designed with the collaboration of physical therapists and engineers.
The Nautilus E616. This is usually seen as a standard gym elliptical. With 25 levels of resistance, workouts can be changed on a regular basis. This elliptical comes with a media shelf that can hold a phone and speakers.
The Schwinn 470. This machine has a twenty inch stride and 25 levels of resistance. It also has a motorized ramp that can be adjusted for the individual. This elliptical works with the World app as well as MyFitnessPal, GoogleFit and others.
The Precor EFX 222. This elliptical is designed for a posture-perfect workout. It has multiple ways to switch up exercise routines to build muscle and burn calories. With twelve pre-programmed workouts available, this machine offers several ways to stay fit.
The EFITMENT Magnetic Elliptical Machine. This machine comes with an LCD monitor and grips to measure heart rate. It is a compact and inexpensive way to exercise in the home. By providing a total body workout, it exercises the upper and lower body while staying gentle on the knees.
The Exerpeutic 260. This is an affordable elliptical machine that has multiple resistance levels. It can track time and distance for an accurate assessment of the overall workout. This machine is designed to fit in a variety of spaces and can be rolled away for safe storage.
The ProForm 150i. This elliptical has twelve pre-programmed workouts to keep individual's motivated. It also has twelve resistance levels and an EKG heart rate monitor. This elliptical is iFit compatible and can provide an efficient cardiovascular workout. The ProForm 150i also has a cordless feature for less clutter.
An elliptical machine can be used all year round and since many machines are compact and affordable, in-home exercise can be an easy way to workout.