Anklets Can Highlight Areas You Never Considered Before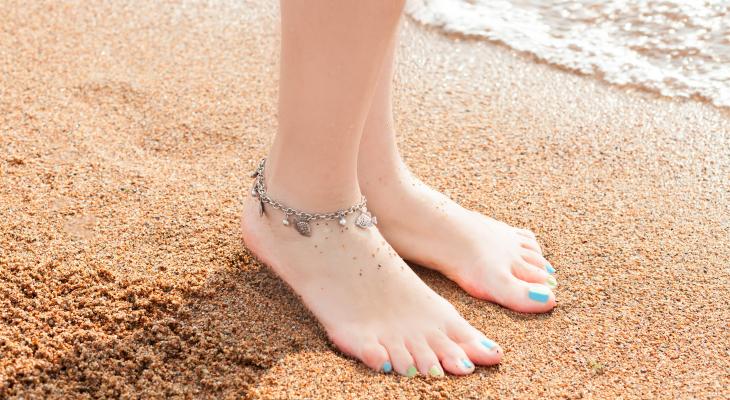 Anklets are a fun and flirty accessory that can dress up casual clothes or give a perfect finish to more formal ones.
Anklets are an effective way to draw attention to feet. Whether wearing shoes or not, anklets make sure people cannot take their eyes off the area. Anklets have been used in Eastern culture since ancient times. Married women in ancient India, on the other hand, wore ankle bracelets containing charms where men would be able to hear them approaching and would be less likely to be disrespectful. Today's anklets are not only made of metal and plastic but also in fabric and beads. These jewelry pieces add grace and beauty to overall attire, and they can enhance personality and character. Currently, there are a lot of rumors about the secret meanings of anklets. They are basically all false though. Th only real truth about wearing an anklet is it makes you look great.
Best Times to Wear an Anklet
There's plenty of great times to throw on a beautiful anklet. Some fo the best places to show off include:
At the Beach - An anklet is a perfect accessory for the beach. The simple embellishment will bring out the beach-chic look. A slender piece of simple jewelry like an anklet is never overdone; it never feels like someone tried too hard. While strolling down the beach in bare feet, everyone notices the pretty anklet.
On Vacation - Whatever plans someone has for a vacation, it is important to remember to appear fashionable with an anklet. The beach is most certainly a place to visit in a vacation trip arrangement, hence the need to glam up with an anklet. It demonstrates someone values good sartorial taste even when outside. It showcases elegance and style. Anklets are available in a variety of styles to suit any summer style.
At a Party - Wearing an anklet to a party is exciting and highlights some interesting areas of the body which a person never considered before. Additionally it acts as a catalyst for an outfit. The smaller accessories tend to be a lot more exciting and attention-grabbing because of the simplicity. This small piece cuts a dramatic edge that makes an outfit shine.
Anklet Styles
While many anklets are simple,. Some can be rather flashy. Some of the best styles include:
Gold anklet - These radiate elegance and style, especially if they have costly diamonds. Golden anklets are usually sold as a single delicate chain or two delicate chains that layer on top of each other. The designs are finest combined with a stunning pair of black pumps for a special occasion. Someone might also wear a golden anklet with a pair of exquisite heels.
Barefoot anklet - Barefoot anklets begin at the ankle, stretch down the top of the foot, and conclude with a toe ring for those who aren't familiar. The term 'barefoot anklet' comes from the fact that it looks like a sandal without a sole. They'll look great with festival or beach clothes.
Beaded anklet - Beaded anklets are the perfect finishing touch for anyone wishing to glam up a club dress, add playful fun to a romper, or complete a bohemian style. Because of its ability to be adaptable, it is appropriate for going to the beach, hitting the bar, or attending a ball. Slide on a favorite pair of shoes and turn out spectacular.
Tips on How to Accessorize an Anklet
You can't always throw on any anklet with success. Always choose thin anklets that can be seen when paired with miniskirts, leggings, or three-quarter pants that accent the feet beautifully. Avoid wearing anklets with chains or rings that produce noise at work or religious places because they may cause distraction when moving about. Sterling silver anklets are appropriate for both formal and informal events. For a more refined style, pair them with a toe ring.
If afraid about clashing an attire or footwear with anklets, plain anklets are the best. Someone may wear them to any event and with anything. Choose anklets that are sufficiently loose; this will make them appear stylish and elegant. Pick the appropriate shoes to go with them and make sure they don't clash with the rest of the attire. If rocking an anklet, get a pedicure and finish the outfit with gorgeous sliders, flip-flops, or backless loafers. An ankle bracelet should not match a pantyhose since it may cause harm, which would not be good.