A Wedding Dress Can Make or Break a Wedding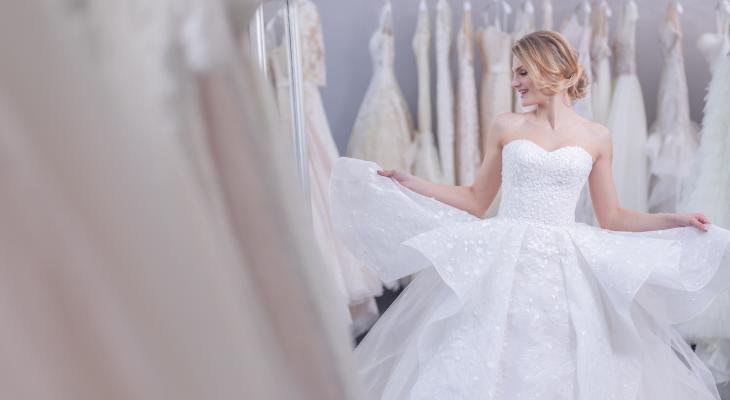 Your wedding is a chance to show off your personal style. One of the single most important aspects of any wedding style is the bride's dress.
There are many types of wedding dresses on the market today. Each dress has different details. That includes the neckline, hemline, length and the type of sleeves. It also includes the kind of material that goes into the creation of a dress. Many brides have a personal style already. Some brides like a look that is sleek and modern. Others may like clothing that is more traditional. The wedding dress can reflect all of these plans and flatter a bride on her big day at the same time. Take the time to find the kind of dress that fits and works with the overall theme of the wedding. A formal wedding needs a wedding dress to match the location. The bride holding her wedding at a beach or her parent's backyard can opt for something more laid back.
Choosing a Wedding Dress Style
Any wedding dress has an innate style to it. All of the details work to create a vision for the bride as she greets her guests. For example, a dress without sleeves is a dress that has a contemporary vibe to it that's a good possibility for a summer wedding. This is also a dress that the bride can wear outdoors on a hot day or in a less formal place such as city hall. Dresses that have long trains and lots of lace are dresses that speak of classical wedding styles with lots of fabulous girly details. These are the kind of dresses that are a good option for a bride who wants to have her fairy tale told. A dress with a high bust calls to mind the empire and Regency period when Jane Austen wrote her novels. This can be a good choice for the bride who wants to call attention to her face and veil.
Look at your own closet before making any wedding dress choices. Chances are you already have a style that speaks to you right now. You might have lots of long flowing dresses with a beading and a romantic, bohemian feel. This can serve as inspiration for the look you want in your own dress. Create a pattern with the use of embroidery and additional beading at the top. If you have more tailored suits, you can go for those crisp edges and a bolero that fits over the top of your bodice. A dress in a style from a specific era is another chance to create a theme for your wedding and personalize it. For example, a bride can look to the flapper period. This is when hemlines started to climb and the dropped waist look was in vogue. A dress in this style flatters the tall, willowy woman. Dresses with a more defined and tucked waist can help the shorter bride bring in a longer silhouette that adds height and shows off her bust.
Finding a Wedding Dress Retailer
Finding a wedding dress retailer is an imperative. In many cases, wedding dress stores are independently owned and operated. A good wedding dress retailer typically has certain elements. Look for places that have a good selection on hand. It's also a good idea to think about the budget you have in mind. A wedding dress can cost a few hundred dollars ranging up to tens of thousands. The bride should also keep in mind the kind of accessories she is going to use with the dress. Many places not only sell dresses. They also sell items such as wedding shoes, veils and all the things go into the entire look she has planned.
The retailer should also ideally offer lots of clothing services. A wedding dress can be tailored to fit the bride's exact figure. Find out if the retailer does this on site or has someone else do it. It's also good to know what is included in the price. Some places offer a basic price for a few alterations and then charge extra for any changes past that point. The retailer should also offer services such as working with bridesmaids to help them pick out the dresses they like best. This will create a truly unified wedding vision.